PRODUCT INFO
Samsung's 850 EVO series SSD is the industry's #1 best-sellingSSD and is perfect for everyday computing. Powered by Samsung's V-NAND technology, the 850 EVO transforms the everyday computing experience with optimized performance and endurance. Designed to fit desktop PCs, laptops, and ultrabooks, the 850 EVO comes in a wide range of capacities and form factors.
FEATURES
Innovative 3D V-NAND Technology

Incredible Read/Write Performance

Enhanced Endurance and Reliability

M.2 SSD Form Factor for Ultra-thin Laptops and PCs

Free Download of Samsung Data Migration & Magician software for easy installation and management
What is 3D V-NAND and how does it differ from existing technology?
Samsung's unique and innovative 3D V-NAND flash memory architecture is a breakthrough in overcoming the density limitations, performance and endurance of today's conventional planar V-NAND architecture. 3D V-NAND stacks 32 cell layers vertically over one another rather than decreasing cell dimensions and trying to fit itself onto a fixed horizontal space. As a result, the technology provides higher density and better performance utilising a smaller footprint.
Optimise computing with TurboWrite technology for unrivalled read / write speeds
Achieve ultimate read / write performance to maximise your everyday computing experience with Samsung's TurboWrite technology. Compared to the 840 EVO, the 850 EVO shows an increased overall user experience of approximately 13%*, partly thanks to the now 2x faster random write speeds** The 850 EVO delivers top-notch performance in its class, with sequential read and write speeds of 540 MB/s and 520 MB/s, respectively. Enjoy optimised random performance in all Queue Depths (QD) for client PC usage scenarios.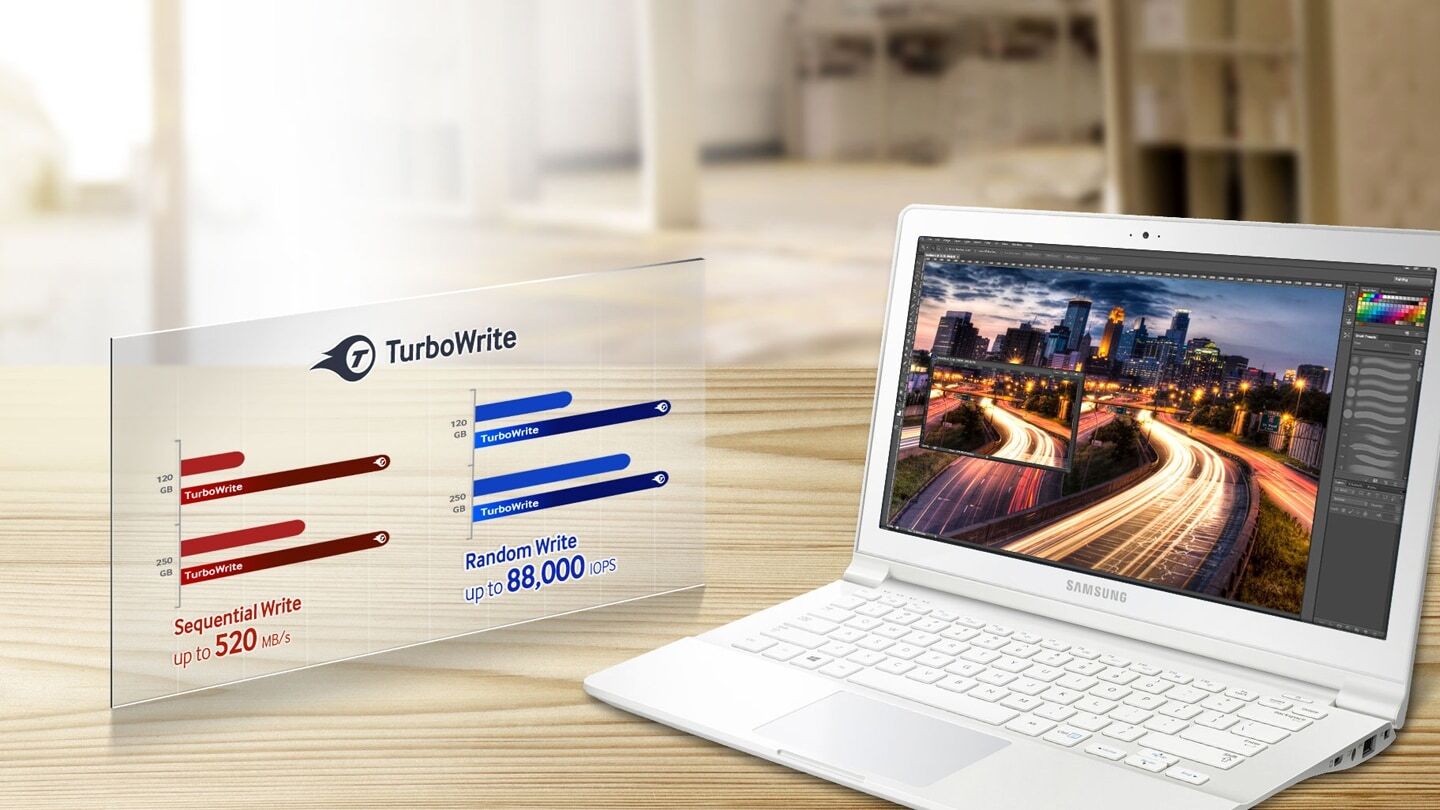 Increase memory storage with RAPID mode
The Samsung 850 EVO M.2 is a speed machine. With the latest Samsung Magician software, you can activate the RAPID mode to tap unused PC memory (DRAM) and use it as cache storage up to 25% of the total DRAM capacity. With the dramatic increase in storage, data processing speeds and random QD can be up to 2x faster* under the RAPID mode.
Endurance and reliability bolstered by 3D V-NAND technology
The 850 EVO delivers guaranteed endurance and reliability by doubling the Total Bytes Written (TBW) compared to the previous generation of 840 EVO* along with an industry-leading 5 year warranty. Through improving performance by up to 30%, the 850 EVO allows sustained performance** making it one of the most dependable storage solutions.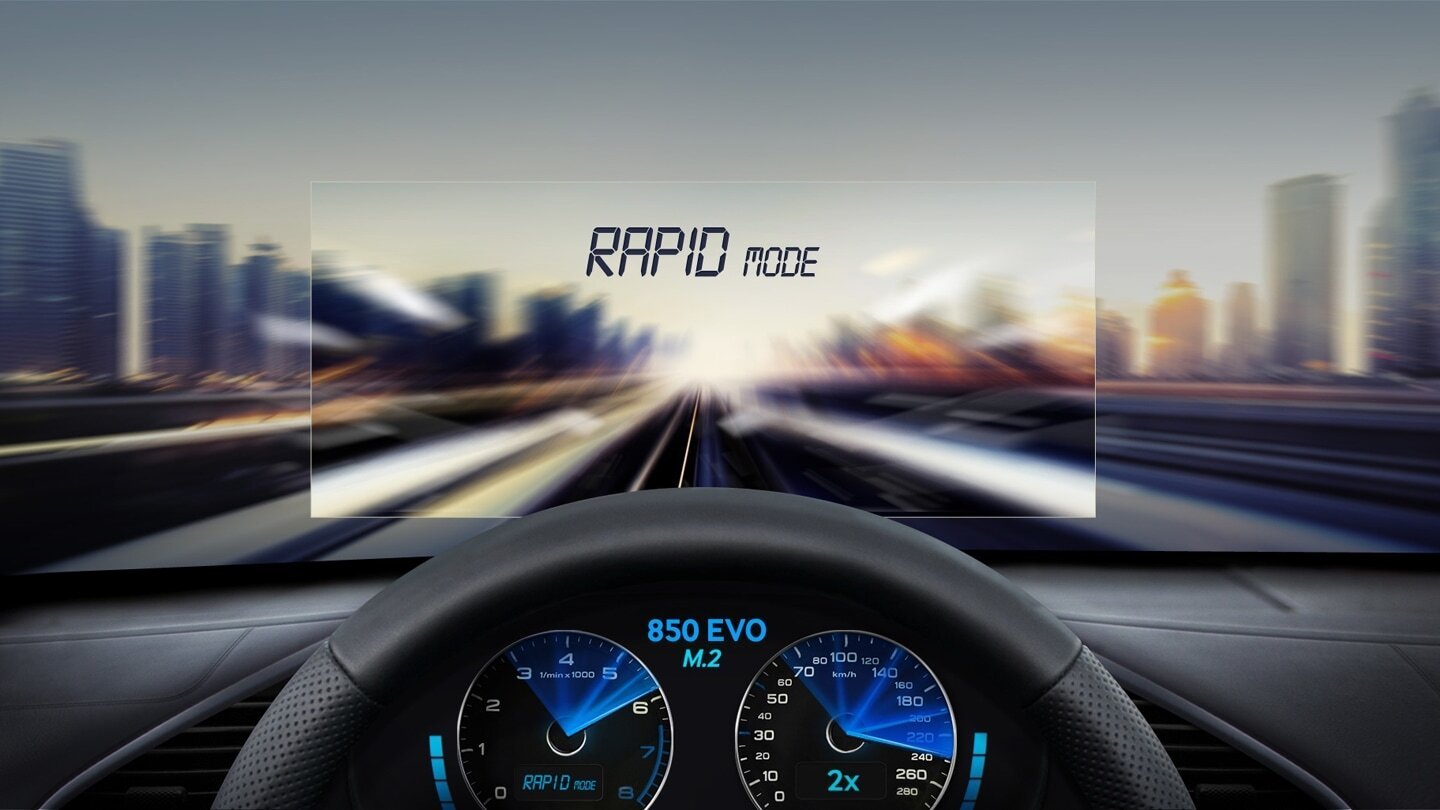 Energy efficiency backed by 3D V-NAND
The 850 Evo introduced the 2 mW device sleep mode feature in the 840 EVO, and now the 850 EVO is introducing cutting-edge 3D V-NAND Technology (which consumes 50% less energy than Planar 2D V-NAND), giving you 25% more power efficiency during write operations*.
Flexible form factor for use in different types of devices
The versatile 850 EVO has you covered no matter which connector type or physical slot size your device supports. The 850 EVO M.2 SATA shares a similar slim and narrow footprint like M.2 PCIe type SSDs, but supports the SATA interface. It's perfect for faster computing experiences on today's desktops, laptops, and especially ultra-thin space-constrained tablet PCs.
Secured data through advanced encryption methods
The 850 EVO comes fortified with the latest hardware-based full disk encryption engine. The AES 256-bit encryption and TCG Opal 2.0 encryption secure data without any performance degradation. It is also compatible with IEEE-1667 for Microsoft's eDrive so that your data is protected at all times for your peace of mind.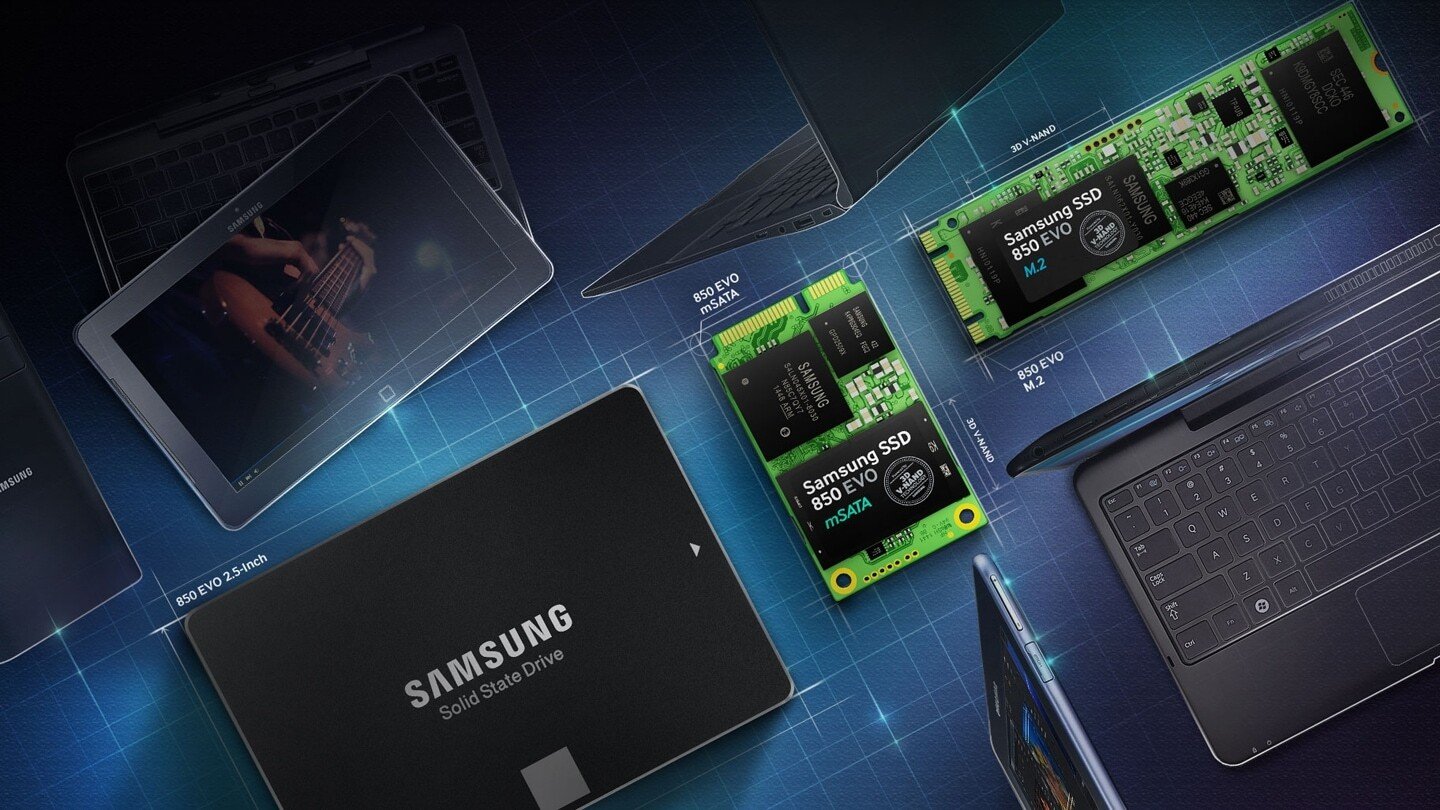 Protection against overheating with Dynamic Thermal Guard
The 850 EVO Dynamic Thermal Guard feature constantly and automatically monitors and maintains the ideal temperature for the drive to operate optimally.
Simple and quick migration management
With the One-Stop Install Navigator, Samsung Data Migration and Magician software are installed simultaneously for your convenience to ensure that your SSD's settings are optimised for efficient data transfer.
Enjoy an integrated in-house solution including top-quality components
As the industry SSD leader, Samsung is uniquely positioned to design, develop and manufacturer exclusively in house, resulting in a seamlessly integrated and fully optimised solution for enhanced performance and eliminating the risk of component compatibility errors.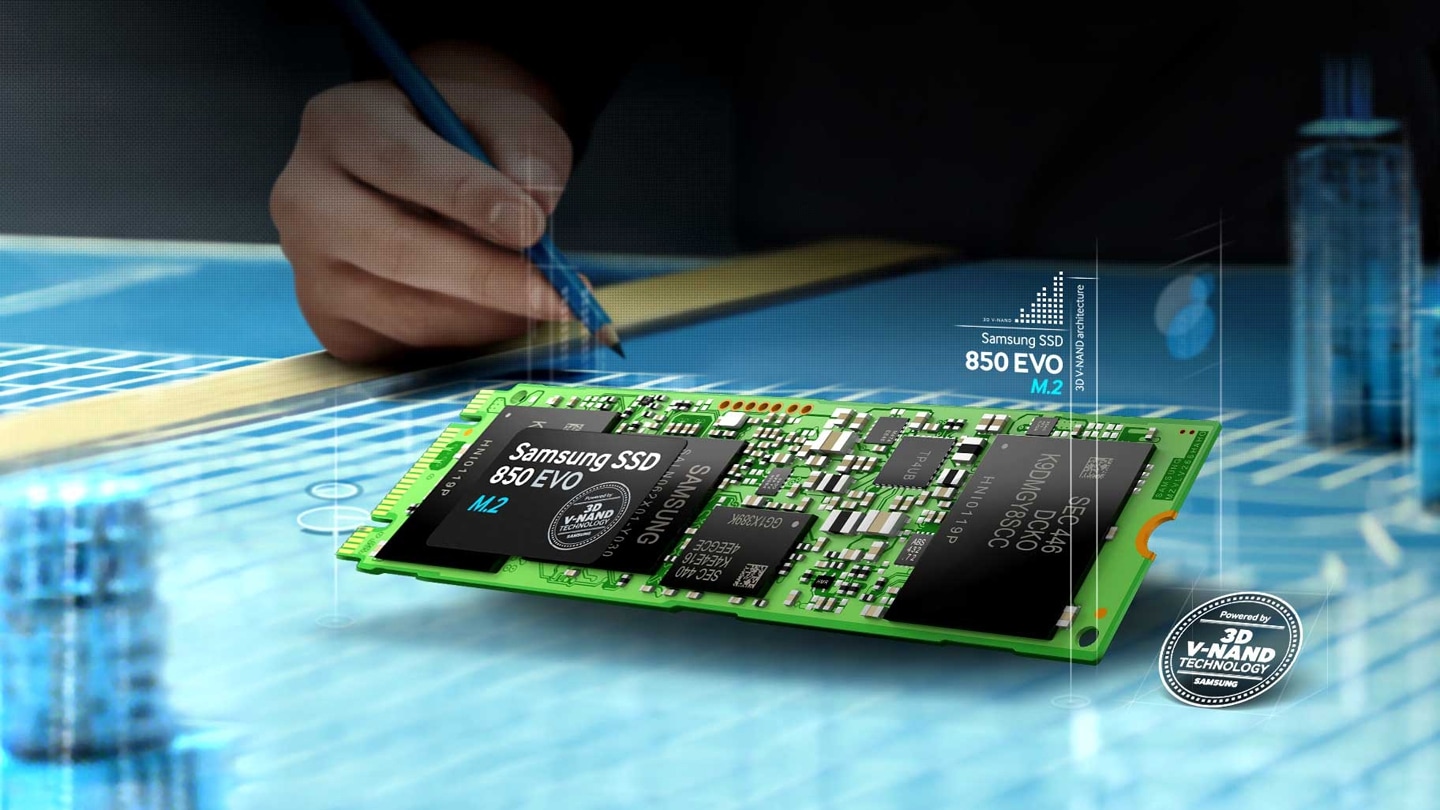 SPECIFICATIONS

| | | |
| --- | --- | --- |
| | General | |
| | Application | Client PCs |
| | Capacity | 250 GB (1 GB = 1 Billionbyte by IDEMA) |
| | Form Factor | M.2 |
| | Interface | SATA 6 Gb/s Interface, compatible with SATA 3 Gb/s & SATA 1.5 Gb/s interface |
| | Dimension (WxHxD) | Max 80.15 x Max 22.15 x Max 2.38 mm |
| | Weight | Max 6.8 g |
| | Storage Memory | Samsung V-NAND |
| | Controller | Samsung MGX Controller |
| | Cache Memory | Samsung 512 MB Low Power DDR3 |
| | | |
| | Special Features | |
| | TRIM Support | Yes |
| | S.M.A.R.T Support | Yes |
| | GC (Garbage Collection) | Auto Garbage Collection Algorithm |
| | Encryption Support | AES 256 bit Encryption (Class 0), TCG / Opal, IEEE1667 (Encrypted drive) |
| | WWN Support | World Wide Name supported |
| | Device Sleep Mode Support | Yes |
| | | |
| | Performance | |
| | Sequential Read | Up to 540 MB/sec Sequential Read |
| | Sequential Write | Up to 520 MB/sec Sequential Write |
| | Random Read (4 KB, QD32) | Up to 97000 IOPS Random Read |
| | Random Write (4 KB, QD32) | Up to 89000 IOPS Random Write |
| | Random Read (4 KB, QD1) | Up to 10000 IOPS Random Read |
| | Random Write (4 KB, QD1) | Up to 40000 IOPS Random Write |
| | | |
| | Environment | |
| | Average Power Consumption (system level) | Average: 2.4 W |
| | | Maximum: 3.7 W (Burst mode) |
| | Power consumption (Idle) | Max. 50 mW |
| | Allowable Voltage | 3.3V ± 5% Allowable voltage |
| | Reliability (MTBF) | 1.5 Million Hours Reliability (MTBF) |
| | Operating Temperature | 0 - 70 ℃ Operating Temperature |
| | Shock | 1500 G & 0.5 ms (Half sine) |
| | | |
| | Software | |
| | Management SW | Magician Software for SSD management |