PRODUCT INFO
Teclast uses high-speed flash memory to generate uniquely fast speeds at the best possible price-performance ratio. These quality discs have been in the European market for the third time and have proven to be extremely fast and reliable. They have been developed in collaboration with Intel with a very low probability of problems and defects, for which Teclast has received several awards .
FEATURES
Original Flash with strict quality and realibity
Adopted original flash memory, every flash was chosen carefully, from the flash material to whole products, tested for several times, ensured the consistency, stability and higy quality of flash memory.
Real and Effective tested data
Sequential read up to 520 mb/s

Sequential write up to 470 mb/s

Adopted AS SSD Benchmark test software empty disk mesured scores.

Adopted SOYO Z170 series mainboard Intel 15-6500 processor 8GB memory.

Actual testing data may vary ( Due to diffirence of system drivers, hardware configuration, product batches).
Reak Speed
TECLAST used the authority AS SSD Benchmark software for speed benchmarking test, the objectivity of its data is recognized by the industry, non-ATTO disk, lometer and other compressible algorithm software test data.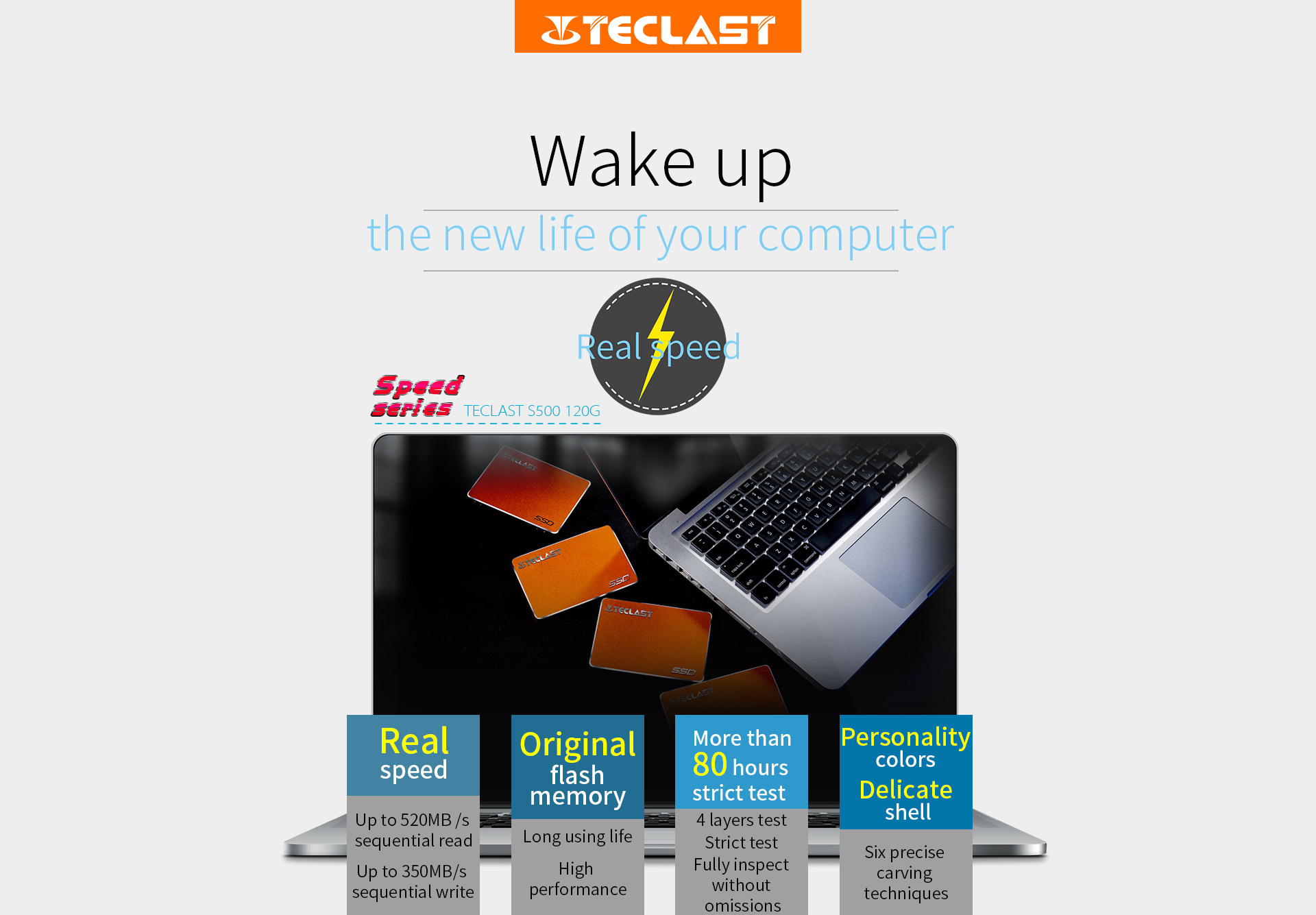 Full of Vitality leading the trend
Special customized orange color, 6 precision carving processes, complex 3 times than conventional shell. Using punching process with engrave figures created a unique three-dimensional sense, and finally through the CNC precision trimming polishing, made procducts unique, exquisite eye-catching.
Professional in storage for 18 years
TECLAST technology entered storage field in 1999 and launches optical storage product lines. Launched USB drive in 2003 and mobile USB drive storage in 2010. We also witnessed the growth changes and development of storage carries; through 18 years' accumulation, they already own the complete R & D team of storage and the supply chain of core components; the face of solid-state hard drive storage area is undoubtedly a unique core competitiveness.
Fully inspect without omissions
Over 80 hours of rigorous testing process:
250 times continuous cold/hot starts

2000 times sleep test

8 hours continuous high temperature aging test

8 hours low temperature aging test

48 hours continuous reading and writing without interruption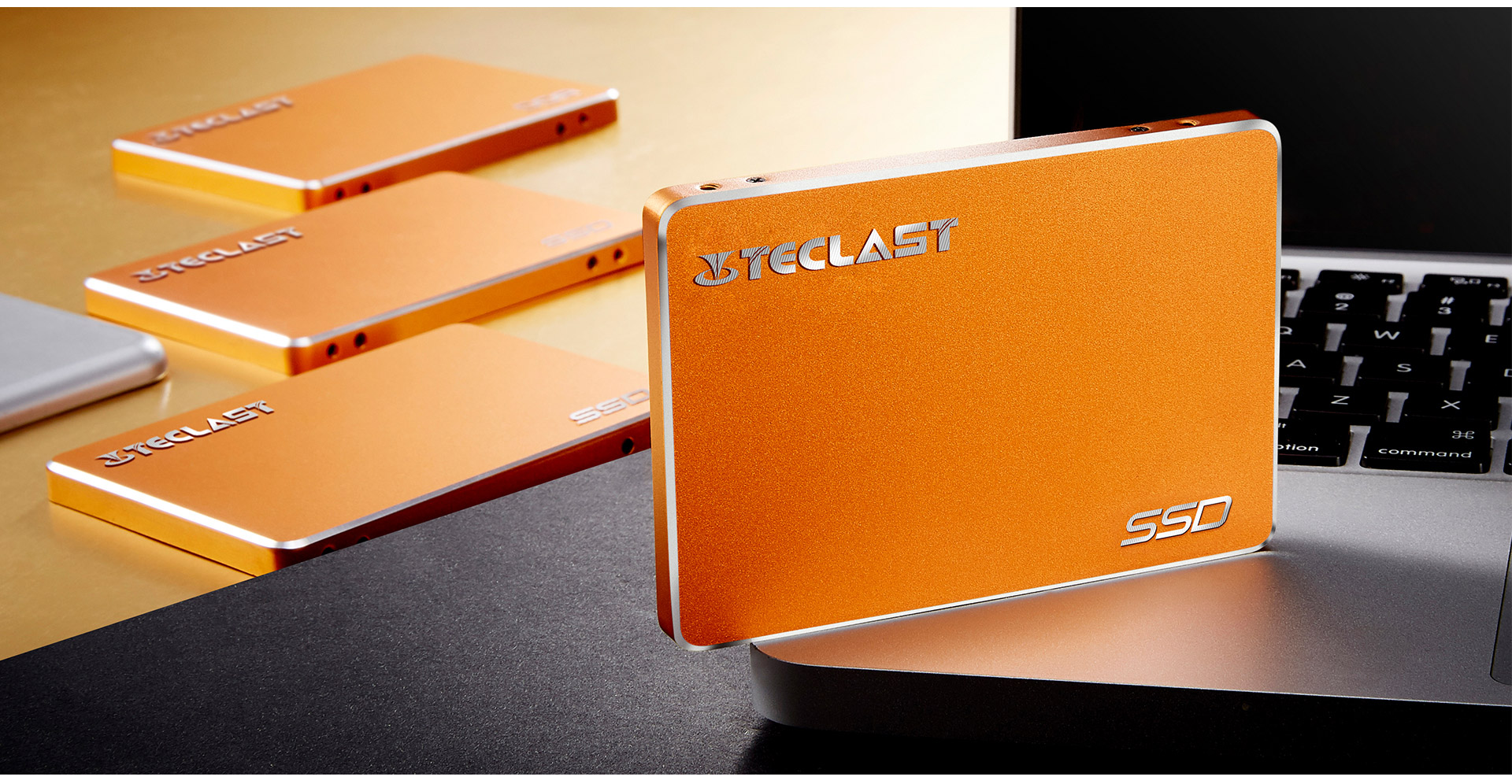 SPECIFICATIONS

| | | |
| --- | --- | --- |
| | Form Factor | 2.5 inches |
| | Capacity | 240 GB |
| | Interface | SATA III |
| | Transfer Rate at Read (MB / s) | 510 |
| | Recording Transfer Rate (MB / s) | 380 |
| | SATA Transfer Rate (MB / s) | 6 Gbit / s |
| | Others | Cool and Quiet |
| | Dimensions (W x L x H mm) | 100 x 6.8 x 69.9 |
| | Weight (g) | Weight (g) |
| | Line-up | 850-240GB |
| | Memory type | V-NAND MLC Toggle |
| | Kind of controller | Intel |